HeavenSent Hemp: CBD Company News and Product Review Updates

- Ad -
HeavenSent Hemp: Therapeutic Colloidal CBD Hemp Oil Tinctures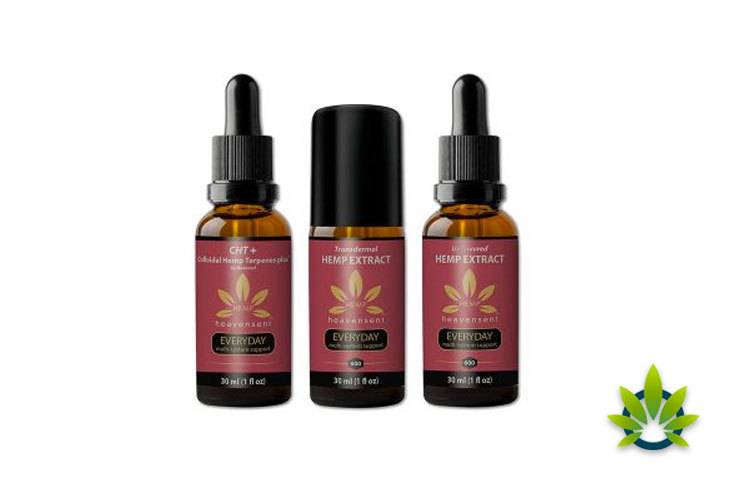 HeavenSent Hemp has been crafted for holistic health professionals since 1981. Their hemp-derived topical and dietary supplement products help to achieve their full therapeutic potential, minimally interfering with the delivery of hemp's healing compounds. HeavenSent Hemp products support a healthy lifestyle. They are not neutraceuticals or concentrated drug isolates. They are whole plant extracts containing an array of beneficial natural chemicals.
Their products are superior as they use a hand-extraction process with organic, extra virgin olive oil which produces the most comprehensive, bioenergetic healing effects. Products are developed and clinically validated by holistic health professionals. They have also chosen optimal levels of the most valuable hemp phytochemicals. Olive oil extraction can amplify hemp's benefits as well as having benefits on its own. The healing compounds in industrial hemp, for the most part, are fat soluble, and therefore they extract very well in extra virgin olive oil.
Most industrial hemp producers use CO2 concentrates of industrial hemp, then dissolve the resulting thick paste with medium chain triglycerides (MCT). MCT are derived from coconut or palm oils and are synthetically produced using a complex process. Extra virgin olive oil, however, is quite simple as it is pressed ripe olives, collected pure oil, filtered, and then bottled. HeavenSent Hemp wishes to create hemp products that achieve full healing potential and have minimal human interference in the delivery of the compounds.
From a purist manufacturing standpoint, it makes sense to choose extra virgin olive oil. The polyphenols in olive oil may well amplify the healing benefits of the terpenes and polyphenols found in quality hemp. The use of extra virgin olive oil also offers structural and metabolic support. For further details or for a deeper explanation, their whitepaper is available on their website for quick and easy access.
HeavenSent Hemp offers a variety of extracts in a multitude of flavors including wild berry, chocolate mint, and unflavored. They are offered in tincture form or in a roll-on application. You can order anywhere from a $25 trial size vial to a case of 12 4oz bottles for $3024. All shipping is free on orders over $200. Each product comes with a detailed description, additional information, a certificate of analysis, as well as a list of ingredients. Special combo offers are also available, so you don't have to commit to just one flavor.
This company is different because of its innovative holistic medical research, unique extraction practices, as well as its vertical integration. A message from the founders states that "we bring a diverse background of about 30 years of strategic business design in corporations such as IBM (Harrison), and nearly 40 years of herbal formulation based on holistic, bio-energetic assessment of patient response to nutritional and herbal therapy (Davis).
"In all those years of experience, from a business and natural medicine perspective, we have never seen anything like the current widespread interest in healing with hemp."
Their goal was to offer a natural product that didn't follow pharmaceutical strategies. They wished to amplify the therapeutic reach of hemp and have empirical clinical evaluation to prove it. At HeavenSent Hemp, they are committed to producing healing hemp products that achieve the highest standards of excellence in terms of verifiable medicinal chemistry and the most coherent bio-energetic resonance. To learn more about their products, view their case studies or press releases, or to make a purchase, please visit heavensenthemp.com.
HeavenSent Hemp: CBD Product Updates
Organic Chocolate Mint Hemp Extract
CHT Plus Chocolate Mint Hemp Extract
CHT Plus Unflavored Hemp Extract
Empty 5 ml Pump Bottle
Roll-On Extract
Unflavored Hemp Extract
Wild Berry Hemp Extract
HeavenSent Hemp: CBD Company News Updates
Location: P.O. Box 627, Lobelville, TN 37097
Money Back Guarantee: Yes
Phone: 800 274 3727
Online Web Support: No
Official Website: heavensenthemp.com/

TimesofCBD is the most active daily CBD news publication featuring the latest cannabis industry stories and marijuana market trends. As the leader in CBD-centric content curation, we invite all readers to come for the headlines and stay for the insights. Quality is the top priority when presenting user guides, analyzing product reviews and reporting fact-checked news announcements. All information is for educational and informational purposes only. Disclaimer.
Got news? Email contact@timesofcbd.com