Healthworx CBD: CBD Company News and Product Review Updates
Healthworx CBD: Full Spectrum CBD Oils, Topicals, Vape Pens, Pet Oils And Crystals/Shatter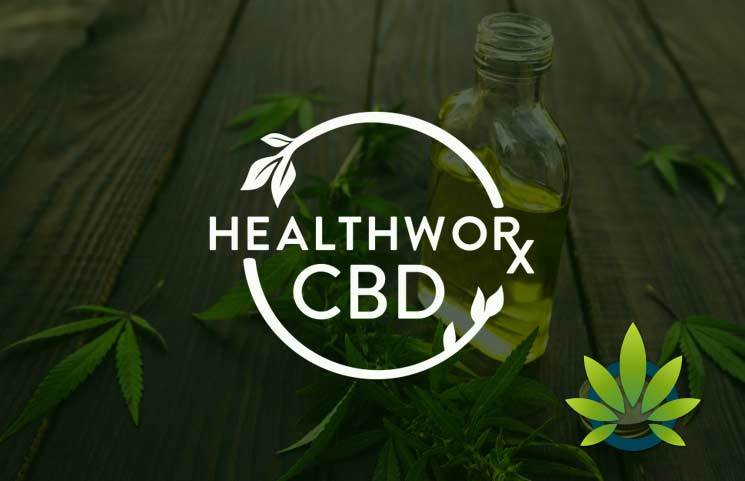 An underappreciated system found in the human body is making waves in today's society and it is none other than the endocannabinoid system (ECS). ECS works in achieving a bodily balance and was not fully considered until 2013, where the health benefits of cannabidiol (CBD) were first publicized.
Nowadays, we know it for being a system that impacts consumers' appetite, handling of stress, mobility and much more. What clearly started off as a potential solution for epilepsy has expanded so far that many believe there still exists uncovered benefits. This is where Healthworx CBD comes into play.
Healthworx CBD proclaims itself as a Colorado-based firm that accentuates on high quality CBD oil and hemp extracts. Their aim isn't to simply offer goods in the country of operations, but worldwide – that way every individual right has been satisfied. The following review will break down Healthworx CBD with respect to its reliability and the products offered among others.
About Healthworx CBD
For starters, Healthworx CBD is said to be founded on "A Better Way to Good Health," which the team deems to be practically attained through CBD infusions tailored to meet the needs of the different roles' consumers serve at home, work and other public places.
As per the claims made, the source of CBD comes from Colorado and contains a rich source of antioxidants to maximize on quality. The fact that it is based in Colorado is a factor that makes Healthworx CBD potentially reliable, as the state values quality and safety in hemp-growing and extraction processes. Adding to the strict industry standards, the extraction process used has been deemed CO2 extraction and the overall growing process depends solely on Denver sunshine.
Most of all, the fact that Healthworx CBD does not simply focus on CBD sales and plays a role in the betterment of the overall CBD industry makes them all the more reliable. In particular, the brand is said to be a proud member of the Hemp Industries Association, the National Hemp Association and the GreenZone Hero.
Healthworx CBD Products
Before value, consumers should reflect on the successful infusions Healthworx CBD has attained, which include capsules, crystals, oils, shatter, topicals, vapes essentials (i.e. oils, pens, cartridges) and pet CBD oils.
Here's a sample analysis of some of the Healthworx CBD products consumers can choose from. The factors that will be mentioned throughout each supplement should be indicative of the value it carries it terms of its price and health aspects:
Healthworx CBD Muscle Freeze
As the name implies, Muscle Freeze has been created with the intentions of easing muscle or joint pain. The solution is said to contain 500mg of CBD along with other ingredients such as aloe vera extract, and vitamin E, which work in unison with CBD's anti-inflammatory properties.
When it comes to its uses, consumers should try patch tests to see whether or not an irritation develops, so that it can be avoided if the latter is the case. Given CBD's properties known to heal skin conditions, it shouldn't be too much of a concern. For a total of 100ml housing 500mg of CBD, the current going price is approximately $49.99.
CBD Isolate
CBD Isolate is none other than a CBD crystal, which is considered the strongest antioxidant to exist. As per noted research, crystals are most beneficial for skin health and can be easily melted into oils to create the ideal topical solution or skin cream.
Healthworx CBD's crystal contains 1000mg of 99% + pure hemp extract that is purportedly pesticide, mold and dirt free. In addition, it has been regarded as free of THC, a frowned upon compound known to induce hallucinations. Its current going price is about $29.99.
CBD Vape Oil Gorilla Glue #4
Vaping CBD has been trusted as one of the most effective delivery methods due to its immediate results. This being said, any infusion of the CBD vape oil should be done in a way that only enhances its strength (not bring it down).
Some of the factors that make Healthworx CBD's vape oil praiseworthy is that is contains 1000mg of CBD and uses the plant's natural flavor profile, i.e. terpenes, to ensure the overall vaping experience is satisfying and tasteful.
The flavor, Gorilla Glue #4, is a hybrid strain combining a mix of Sativa (mind and body relaxer) and Indicia (body relaxer). Based on the claims made, it is Sativa-dominant, which signifies its ability to relax and stimulate consumers, while serving as a potential medicine. If chronic pain and lack of sleep are two growing concerns for consumers, this vape oil may come of significant use. For a 15ml bottle, consumers can expect to invest $49.99.
Based on the analysis above, it is clear that value is not of concern, as consumers are getting a significant amount of CBD per serving with added natural ingredients that have similar properties to CBD.
Healthworx CBD Final Thoughts
Overall, Healthworx CBD appears to be a brand of worth, as every step taken to ensure each product's quality has since been provided for consumer review. This is mainly reflected in the lab results offered, which provide a summary of the dominating cannabinoid(s) present along with other factors that have been tested for.
Surprisingly, the prices have been set below the average seen within the CBD industry. In particular, the surprise rests in the fact that each essential offered contains a significantly high amount of CBD per serving; ranging anywhere between 10 and 66mg.
As for the brand itself, several measures such as business of operations, source of CBD, CBD extraction processes and chosen testing services all reflect the reliability of Healthworx CBD, which is crucial considering the fact that the CBD industry is fairly novice and is saturated with competition. To learn more about Healthworx CBD and the benefits they claim to deliver to consumers, check out: healthworxcbd.com/
Healthworx CBD: CBD Product Updates
Full Spectrum CBD Oil 500mg, 1500mg, 5000mg
CBD OIL THC FREE 200mg, 600mg, 1000mg, 3000mg
CBD GUMMIES 30mg
CBD CAPSULES 125mg, 250mg, 750mg, 1500mg
Full Spectrum CBD Capsules 750mg, 1500mg
500MG CBD BARRIER BALM
CBD RESCUE BUTTER
500MG CBD MUSCLE FREEZE
250mg Skin Vitality Oil Roll-On
CBD LIP BALM
600MG PET CBD OIL THC FREE
CBD ISOLATE 500mg, 1000mg
300MG CBD DISPOSABLE VAPE PEN Assorted Flavors
1000MG CBD Vape Oil Assorted Flavors
CBD Vaporizer Pen Cartridge 500mg Assorted Flavors
SHATTER 1000mg Assorted Flavors
Healthworx CBD: CBD Company News Updates
Location: 303 South Broadway Suite 200-123 Denver, Colorado 80209
Money Back Guarantee: yes
Phone: 888-803-1530
Email: info@healthworxcbd.com
Online Web Support: No
Official Website: healthworxcbd.com

TimesofCBD is the most active daily CBD news publication featuring the latest cannabis industry stories and marijuana market trends. As the leader in CBD-centric content curation, we invite all readers to come for the headlines and stay for the insights. Quality is the top priority when presenting user guides, analyzing product reviews and reporting fact-checked news announcements. All information is for educational and informational purposes only. Disclaimer.
Got news? Email contact@timesofcbd.com