Foria Wellness: CBD Company News and Product Review Updates
Foria Wellness: Broad-Spectrum CBD Hemp Extract Tonic, Lube And Menstrual Relief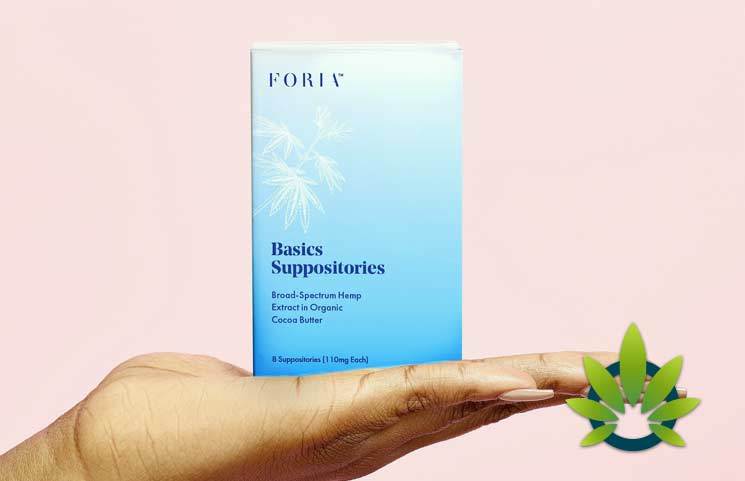 One of several pains that women have to overcome is that of menstrual cramps. Menstrual cramps are felt in the lower abdomen and can easily last anywhere between 2 and 5 days into one's cycle.
Often times, the pain felt is considered a mix aching, throbbing and thumping – all of which induce discomfort at a level that negatively impacts one's ability to focus and be present in their daily lives. Interestingly, an old, but revisited solution has been made available and this is thanks to Foria Wellness.
Foria Wellness aims to prove to consumers that the ingestion of cannabidiol (CBD) can help to relieve menstrual discomfort while spicing up one's sex life. To see how this is so, the following review will look closely at Foria Wellness with respect to its purpose and products offered.
What Is Foria Wellness?
Foria Wellness is believed to be founded on passion for herbal solutions and its positive effects on the human system. What started off as a journey in understanding cannabinoid uses and women's menstrual cycles led to a line of products that rids discomfort while naturally arousing both men and women.
This supposedly couldn't have been attained without Foria's first ever group of Californian patients yearning to increase their pleasure. Let's take a closer look at the basics and how far the brand has since expanded.
Foria Wellness Products
Foria carries a basic line of CBD-infusions that require further analysis, as their immediate effects involve bettering rather sensitive areas of health – which is still fairly new among the CBD industry.
Awaken
Awaken is deemed the first ever CBD-infused intimate massage oil targeting women. It supposedly contains broad-spectrum CBD, which is the inclusion of cannabinoids excluding that of THC along with a mix of aromatic oils and Kava (i.e. alternative to THC). Some of its benefits include increased arousal, natural lubrication and enhanced sensation – ultimately attaining an orgasm like no other.
Basics Tonic
The Basics Tonic is a dietary supplement that has been created with the intentions of achieving balance in one's bodily functions – whether this implies appetite, mood, sleep, physical health, or the immune system to name the least. As for its concentration, consumers are advised that the Basics Tonic contains 1000mg of broad-spectrum CBD housed with MCT oil for optimal absorption.
Basics Suppositories
Basics Suppositories serve as relief inducers for menstrual discomfort. Other areas it helps to relieve include muscular relaxation and tension. In addition to the use of 100mg of broad-spectrum CBD, the suppositories also claim to include cocoa butter for increased absorption via insertion. Its uses are said to bring immediate results, more so than CBD-infused edibles because both the vagina and rectum are what absorbs the embedded content.
Flow
Soon-to-be released, "Flow", is for inhalation uses (i.e. similar to a vape pen). Its overall purpose is claimed as inducing feelings of calmness and enjoyment, which is necessary in today's day and age, as most consumers are stressed and constantly trying to attain new goals. As for its flavors, consumers can expect to enjoy peppermint, vanilla, cacao and more – all of which come from its natural source and are believed to include terpenes as well.
Foria Wellness Final Thoughts
Overall, it is clear that Foria Wellness has a competitive advantage when it comes to the type of CBD-infusion attained. In particular, they are one of the fewest brands to have used CBD for relieving menstrual-related discomfort, inducing sexual desire and finally, offering the mind and body the restfulness it deserves.
Throughout their official website, necessary and informative details have been provided that reflect Foria Wellness' processes and overall quality. Whether this entails the use of organic ingredients, their confidence in broad-spectrum CBD as opposed to pure CBD or even the process entailing the inclusion of terpenes and flavonoids.
What makes Foria Wellness a reliable CBD brand is the name they've earned from the likes of Cosmopolitan, Pop Sugar, PROHBTD, Vice, Mashable, and Broadly to name a few. In addition, it has been revealed that a study assessing the benefits of cannabis-infused vaginal suppositories is going to be conducted in which Foria Relief's effectiveness will be assessed in terms of addressing pain and other menstrual-related symptoms. The fact that Foria Wellness among its competitors was chosen alone says a lot.
This being said, it would have been much more encouraging to see Certificate of Analysis to confirm everything that has been claimed. This being said, given Foria Wellness' key interest of bringing relief to consumers amidst the different types of pains and dysfunctions that exist, it seems like a brand that will do its best in ridding consumers of any doubts that may arise.
To learn more on the most effective ways to make use of Foria Wellness essentials, check out: foriawellness.com
Foria Wellness: CBD Product Updates
Awaken Natural Arousal Oil with CBD & Synergistic Botanicals
Basics Suppositories Broad-Spectrum CBD in Organic Cocoa Butter
Basics Tonic Daily CBD Supplement 500mg, 1000mg
Basics Capsules Broad-Spectrum CBD for Daily Wellness 25mg
Flow Multi-Botanical CBD Vaporizer 450mg
Foria Wellness: CBD Company News Updates
Email: hello@foriapleasure.com
Online Web Support: Yes
Official Website: foriawellness.com/

TimesofCBD is the most active daily CBD news publication featuring the latest cannabis industry stories and marijuana market trends. As the leader in CBD-centric content curation, we invite all readers to come for the headlines and stay for the insights. Quality is the top priority when presenting user guides, analyzing product reviews and reporting fact-checked news announcements. All information is for educational and informational purposes only. Disclaimer.
Got news? Email contact@timesofcbd.com