CBDPure: CBD Company News and Product Review Updates
CBDPure: Best Scientifically Tested CBD Oil and Hemp Cannabidiol Products?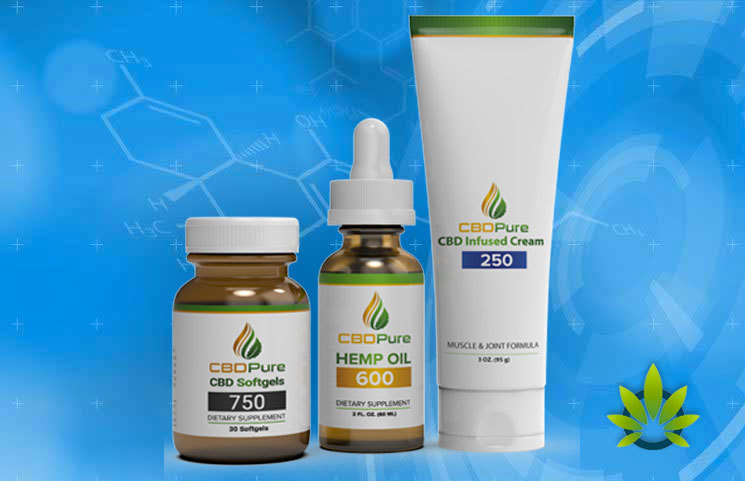 CBDPure, found online at CBDPure.com, claims to offer the most powerful and benefit-packed cannabidiol products available today. Find out if that's true today in our review.
What is CBDPure?
CBDPure is a cannabidiol product retailer that sells various types of cannabidiol oil, hemp oil, and other products.
CBDPure is operated as a brand subsidiary of Nutra Pure LLC, a nutritional supplement retailer based in Vancouver, Washington. In November 2016, Nutra Pure LLC released a press release announcing the launch of the CBDPure product lineup. Overnight, the CBDPure brand was born.
"Nutra Pure is excited to announce the launch of its new, all natural product, CBDPure, organic hemp oil enriched with cannabidiol (CBD) in three concentrations: 100 mg, 300 mg and 600 mg."
According to Nutra Pure LLC spokesman David Kingston, the product lineup was built, "with the intention of helping people safely experience healthier well-being using an all-natural product." Kingston added that Nutra Pure followed "strict manufacturing guidelines as well as stringent quality control protocols" to produce the best possible CBD product.
Of course, all CBD manufacturers make similar claims about the purity and quality of their ingredients. Let's take a closer look at the CBDPure product lineup.
CBDPure Products
CBDPure Capsules

CBD Hemp Oil 100mg ($29.99): Each daily serving of the 100mg hemp oil supplement from CBDPure delivers 3.3mg of cannabidiol via natural, organic hemp oil. The purchase is backed by a 90-day money back guarantee and has a natural hemp flavor. $29.99 gets you a one month supply of hemp oil. You can buy a 3 month supply for $69.99 ($23.33 per bottle) or a 6 month supply for $124.99 ($20.83 per bottle).
CBD Hemp Oil 300mg ($54.99): The CBDPure 300mg hemp oil has 10mg in each daily serving, with a one month supply priced at $54.99. Like the other hemp oils, it has a natural hemp flavor and 90-day money back guarantee. If you want to bundle and save, then you can buy a 3 month supply for $129.99 ($43.33 per bottle) or a 6 month supply for $219.99 ($36.67 per bottle).
CBD Hemp Oil 600mg ($79.99): The most powerful CBDPure hemp oil is the 600mg option, available for $80 for a one month supply. Each daily serving contains 20mg of cannabidiol. There's a natural hemp flavor and 90-day money back guarantee. To bundle and save, you can buy a 3 month supply for $199.99 ($66.66 per bottle) or a 6 month supply for $339.99 ($56.67 per bottle).
CBD Oil Softgels 750mg ($99.99): The softgels are designed for those who want the maximum possible dose of cannabidiol in each serving. This product comes with 25mg of cannabidiol per softgel, with a 30 softgel bottle priced at $99.99. Like other CBDPure products, the hemp is natural and organic. It's all packaged neatly into an easy-to-swallow soft gel capsule. There's a 90-day money back guarantee if you are unsatisfied. To bundle and save, you can buy a 3 month supply for $249.99 ($83.33 per bottle) or a 6 month supply for $419.99 ($69.99 per bottle).
Other Products: CBDPure and CBDPet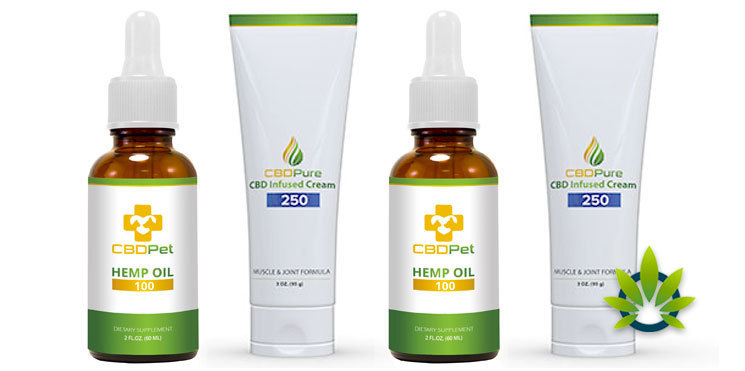 How Does CBDPure Work?
Whether buying CBDPure softgel capsules or hemp oil, the company's products work in a similar way: they deliver a dose of cannabidiol that allows you to enjoy various purported health benefits.
The CBDPure website claims that their products are made from industrial hemp grown in Colorado without the use of harmful pesticides and herbicides. The company also claims the hemp it uses has a particularly high concentration of cannabidiol and "is grown with great care in order to produce a high-quality product you can count on", as described by the official website.
After ingesting CBDPure products, the company claims users can expect to enjoy the therapeutic benefits of cannabidiol. Here's how the website describes those benefits:
"CBDPure contains naturally occurring Cannabidiol (CBD), which is the main therapeutic cannabinoid found in hemp. CBD, along with other specific cannabinoids binds to the cannabinoid receptor sites found in the human body that make up the endocannabinoid (EC) system."
After binding to receptor sites, CBD, according to the CBDPure website, can "produce soothing, relaxing effects without producing a 'high'". CBDPure's website also describes that CBD can "maintain and promote their general well-being mood and stress levels." The company also adds that CBDPure products and CBD are "non-habit-forming, and can be taken daily" with "no psychoactive properties, and will not impair users in any way."
The CBDPure 90 Day Money Back Guarantee
CBDPure has a money back guarantee. The company claims that any users who are "not experiencing the benefits" they expected or "simply are not happy with [their] results" can return their order for a full refund.
You are required to request a refund within 90 days of purchase.
The only "catch" to this refund policy appears to be the shipping costs. Users will not receive a refund on shipping costs. However, you should expect to have your refund fully processed within 1 to 2 weeks of your order being received back at CBDPure's returns address, which can be found in the Terms and Conditions document
CBDPure Location
CBDPure is a subsidiary of a Vancouver, Washington-based nutritional supplement retailer called Nutra Pure, LLC. That company is based at the following address:
800 NE Tenney Road, Suite 110-326
Vancouver, WA 98685
You can contact the company via email at support@cbdpure.com
Is CBDPure Certified Organic?
CBDPure makes a big deal out of the fact that its products are made from organic hemp. However, they don't actually claim that their products are certified organic.
In defense of CBDPure, however, no CBD products can be certified as organic. The Food and Drug Administration does not consider CBD a food or a drug, and the U.S. government does not federally recognize the hemp industry as a legitimate, federally-regulated agricultural category.
For all of these reasons, categorizing a CBD supplement as certified organic can be problematic – although this may change in the future with the 2018 Farm Act.
CBDPure insists that its supplements and its hemp supplier in Colorado abide by all of the following requirements:
The soil on the farm is tested for toxins and chemical residues
All planted hemp seeds have not been genetically altered (they're non-GMO)
CBD-rich hemp is grown without the use of chemical pesticides and herbicides
The farm only uses chemical-free natural fertilizers during the growing season
Hemp plants are harvested using only manual and mechanical processes
Cannabidiol is extracted from the hemp biomass using no chemical solvents – only CO2
The CBD oil is bottled with the only naturally-derived hemp carrier oil
There are no non-natural additives or preservatives inside the finished CBDPure products
Conclusion on CBDPure
Ultimately, CBDPure is one of the internet's more popular cannabidiol supplement retailers. You can learn more about the company and its cannabidiol products by visiting online today at CBDPure.com.

TimesofCBD is the most active daily CBD news publication featuring the latest cannabis industry stories and marijuana market trends. As the leader in CBD-centric content curation, we invite all readers to come for the headlines and stay for the insights. Quality is the top priority when presenting user guides, analyzing product reviews and reporting fact-checked news announcements. All information is for educational and informational purposes only. Disclaimer.
Got news? Email contact@timesofcbd.com