CBD Oil Emporium: CBD Company News and Product Review Updates

- Ad -
CBD Oil Emporium: 99% Pure CBD Isolate, Gummies, Pain Freeze Gel And Tinctures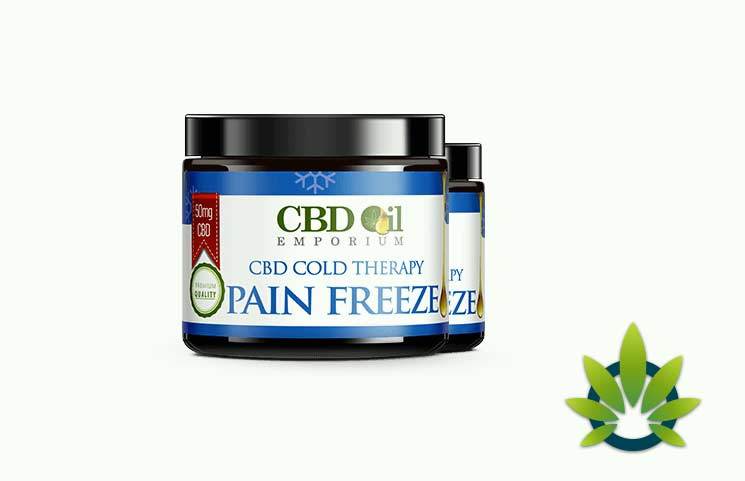 Health and wellness trends are constantly changing. Right now, one of the most popular options that seems to be big in the industry is cannabidiol (CBD). This substance is recognized for its therapeutic properties, such as promoting a reduction in stress, anxiety, and reducing inflammation as well. Those who are looking for a high-quality CBD supplement may find that there are many different options on the market. This review would like to introduce CBD Oil Emporium.
About CBD Oil Emporium
CBD Oil Emporium is a CBD brand that offers a wide-range of CBD products. As the brand explains, its mission is to "offer users a safe, effective alternative to prescription painkillers, other toxic prescription drugs and over-the-counter drugs that contain harsh chemical compounds alien to nature's perfect remedies." The brand's website also explains, "We like to think we approach our business with an old world mentality. Our staff works one on one with its clientele to inform and educate in a non-intimidating, all natural setting. Ultimately, our staff guides our clientele to the right product for them."
100% Pure Hemp Oil
The type of hemp oil used by the brand is extremely important. In this case, CBD Oil Emporium explains that it uses 100% pure CBD hemp oil, which suggests that the hemp oil is not mixed with any other substances that may detract from the overall quality and purity of the formula. The brand also opts for hemp that is grown and extracted under strict guidelines in Kentucky. The hemp grown is part of the Kentucky Department of Agriculture Industrial Hemp Pilot Program.
Third-Party Testing Service
CBD Oil Emporium features a FAQ page on Lab Reports and Certificates of Analysis. As the page explains, "Not all products are made the same. CBD has exploded into the mainstream and the industry is growing at an extremely rapid pace. This growth has seen hundreds of new brands pop up on the scene and not all have the same quality control standards."
CBD Oil Emporium Product Categories
As previously mentioned, CBD Oil Emporium offers a number of products that users can incorporate into their lifestyle. Here are the main product categories so that users are aware of what is being offered:
CBD Oils
CBD Gummies
CBD Capsules
CBD Pain Creams
There are a number of products in each category. To make things easier, this review will touch upon several products that users may want to start with when opting for the brand and its formulas. It is by no means an exhaustive list and there may be better options that users are looking for and that they can find on the website.
CBD Oil Emporium

Products

The brand has a list of a featured collection on its website. Here is an overview of the products in the featured collection:
CBD Pain Freeze Gel
CBD Emporium Pain Freeze Gel is a formula that is described as a "perfect soothing solution for your pain, joint, and muscle problems." A full dose of CBD is combined with the cold therapy of the cream so that users can experience long-lasting and prime relief. The CBD is combined with other natural ingredients, such as aloe vera, that may be able to enhance the product's potential and effectiveness.
CBD Gummies
CBD Emporium CBD Gummies is a batch of potent gummies that consumers may be able to include into their lifestyle for a soothing boost. As the brand explains, the gummies come in doses of 15 mg, they are high potency, and deliciously sweet and chewy. Further, the brand notes that the gummies are more potent than traditional CBD gummies, which may make them the right go-to option for users.
CBD Gel Capsules
CBD Emporium CBD Gel Capsules, as the brand explains, is a combination of its CBD suspended MCT oil. The capsules come in strengths of 25 mg or 50 mg and there are 30 capsules per bottle. The capsules are easy to use, they are travel friendly, and they may be just what users need on the go.
CBD Tincture
CBD Emporium CBD Tincture is described as the brand's most popular product. The formula features 99% CBD oil in MCT strengths such as 250mg, 500mg, 100mg, and 3000mg. Further, the brand describes the product as a safe, affordable, and easy to use product.
These are just a few of the main products offered by the brand. Keep in mind, there are no guarantees concerning the products' performance. At the end of the day, users respond differently to CBD and the best way to determine whether the product is right is to incorporate the formula into one's lifestyle and to see how it works.
CBD Oil Emporium 

Summary

Overall, those who are looking for a prime CBD formula may want to give CBD Oil Emporium a chance. The brand offers a wide-range of high-quality products that may fit well into users' lifestyles. To learn more and to get started, just visit the brand's website today.
CBD Oil Emporium: CBD Product Updates
300MG CBD OIL TINCTURE PEPPERMINT FLAVOR 30 ML
CBD GUMMIES (300mg, 600mg, 1500mg)
CBDOIL EMPORIUM – 25 MG HIGH POTENCY CBD GUMMIES
HIGH POTENCY FULL SPECTRUM CBD BLEND GEL CAPSULES 10 MG
HIGH QUALITY CBD OIL EMPORIUM PAIN RELIEF FREEZE 200 MG 4 Oz
CBD Oil Emporium: CBD Company News Updates
Location: 13860 Wellington Trace Suite 38-161 Wellington. FL 33414
Money Back Guarantee: Yes
Phone: (844) 233-8521
Email: support@cbdoilempoorium.com
Online Web Support: Yes
Official Website: cbdoilemporium.com/

TimesofCBD is the most active daily CBD news publication featuring the latest cannabis industry stories and marijuana market trends. As the leader in CBD-centric content curation, we invite all readers to come for the headlines and stay for the insights. Quality is the top priority when presenting user guides, analyzing product reviews and reporting fact-checked news announcements. All information is for educational and informational purposes only. Disclaimer.
Got news? Email contact@timesofcbd.com