CBD GoldLine: CBD Company News and Product Review Updates
CBD GoldLine: Trusted CBD Oil, Vape Pen Cartridges, Edibles, Bath And Body Products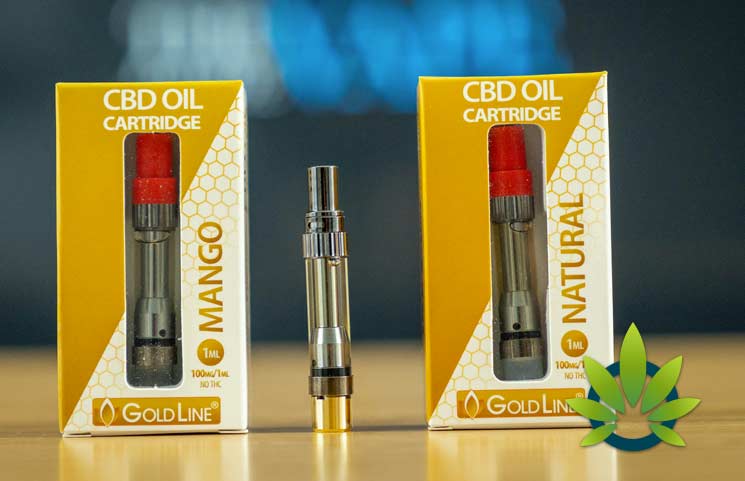 With the legalization of cannabis in different states, customers are having quite a hard time choosing from the many options of products that keep coming up. CBD-based products, especially, are becoming the rave with each brand seemingly trying to outwit each other.
That is where our brand review guide comes to help. This CBD buyer's guide will provide a lot of information on a CBD brand which could be a pick for you. We get to review its user ratings, effectiveness and the reviews from customers. Let's explore more on the CBD GoldLine brand.
About CBD GoldLine
CBD GoldLine focuses on making a range of CBD products that are not only easy to use but also diverse. In their production line, the CBD firm manufacturers different products from vaper, CBD wax, edibles, bath bombs and even CBD-based joints. Notably, CBD GoldLine also has a line of CBD oils can offer quite the convenience regarding use. You can use the oils as vaporizers or as a plain tincture. That makes CBD GoldLine one of the few CBD oils available for multi-use in the market.
Interestingly, CBD GoldLine is a subsidiary of the vape company, HoneyStick Ltd. The brand specializes in producing a variety of vapes from all kinds of extracts. Despite having this vape background, CBD GoldLine goes on to make a range of non-vape products even to include edibles that people can enjoy and still get to access the benefits of the CBD compound. This spells out a company which is focused on their priority to succeed in an increasingly crowded market.
CBD GoldLine Products
As earlier mentioned, CBD GoldLine is not short of CBD-based products and accessories in their merchandise catalog. They have done their best to encompass vapers, tokers, non-vapers, and even soakers. Here what we found:
CBD Edibles
This exclusive category combines some of the best quality CBD treats and prescription capsules for those seeking a daily dose of their CBD. Get to explore the CBD GoldLine 600mg tincture, CBD Capsules 5 pack, and the CBD Honey Stix. Most notably are perhaps the regular priced CBD Gummies that are not that old of a candy.
Bath And Body
CBD GoldLine was also creative enough to come up with bath bombs of different flavors and CBD concentration. You can expect to find a Grapefruit CBD 25MG, Lemongrass CBD Bath Bomb 25mg, Eucalyptus CBD Bath Bomb 25mg and the special package CBD GoldLine Bath Bomb 125 MG 5 pack. Peppermint and Lavender-scented Bath bombs are also available at 25mg of the CBD in each piece.
Batteries
If you have a vaping device, CBD GoldLine could also work for you. The variable voltage battery is vital in powering an assortment of CBD GoldLine's vaping devices and comes programmed with a single dose feature for vaping safety.
Cartridges
The Pre-filled 1ML and Pre-filled JUUL CBD Cartridge are another line of popular Vape products from CBD GoldLine that allows users to start their CBD vaping quest effectively. If you often have trouble loading the Vape cartridges, then these models might come in handy with convenience.
CBD Pens
CBD GoldLine provides the following CBD-based vape pens: CBD Crumble Wax Pen 250mg, CBD Crumble Wax Pen 500mg and its pre-filled .5ml CBD Vape pen available for $24.
Crumble
You can also get a product for your dab pen from CBD GoldLine line of products. You can opt for the CBD Crumble 500mg or 250mg concentrate if you are looking for an option to vape on an open coil vaporizer.
Oils
Apart from the CBD GoldLine Reserve 600mg oil tincture, the brand also offers a flavorful blend of 30ml CBD Oil to get novice users to start their CBD regiment.
Joints
The full spectrum CBD rich Pre-rolled joints will offer the best quality of hemp flowers in a fantastic GoldLine 3 pack. Each pre-roll is made from imported pre-rolled cones with filters for natural lighting and smooth pulls.
Supplements
The GoldLine Hemp Vitamin Gummies will get you a daily dose of full spectrum hemp oil infused with multiple vitamins to offer an enjoyable intake of healthy nutrients.
CBD GoldLine Conclusion
There is plenty to think when it comes to deciding to stick to a particular brand of CBD products. In the case of CBD GoldLine, we technically found a wide range of factors that would make us recommend their products for medicinal properties.
The first reason would be that a lot of the products from CBD GoldLine are full spectrum and this makes them far much beneficial than the cannabidiol only products on the market. Additionally, we would have to consider that CBD GoldLine is providing a variety of concentrations and fruit flavors which any user would find appealing in choosing a combination. The brand further claims to manufacture their products under GMO-free and Gluten-free processes to ensure they adhere to good manufacturing practices. Also, they do identify as having taken the CBD GoldLine products through a vigorous independent doctor and lab testing to certify the quality of the components present.
CBD GoldLine provides an excellent range of products to help with the consumption of the therapeutic CBD compound. And fortunately, they allow you even to enjoy the CBD while satisfying your sweet tooth or soak session. Plus, we do love that they do consider even the CBD enthusiasts who are in search of a vaping option.
CBD GoldLine: CBD Product Updates
CBD Gummies
CBD Sour Gummies
CBD Capsules
Liquid Honey Tincture (500mg, 1000mg)
CBD Honey Stix 100mg
CBD Oil Tincture (100mg, 300mg, 500mg)
CBD Crumble Wax Pen (250mg, 500mg)
Disposable Pre-filled CBD Vape Pen 100mg (Assorted Flavors)
kit for removing oil from vape cartridge
Pre-filled 510 CBD Cartridges 1ml (Assorted Flavors)
Reserve 1200mg Full Spectrum CBD Oil, High Grade Hemp Extract
Reserve 600mg GoldLine CBD 30mL
CBD Pain Cream 250mg
Reserve CBD Hand & Body Coconut Lotion
CBD GoldLine: CBD Company News Updates
Location: 3001 Griffin Road, Fort Lauderdale Florida 33312
Money Back Guarantee: Yes
Phone: 1-888-420-8858
Email:  Info@cbdgoldline.com
Online Web Support: Yes
Official Website: cbdgoldline.com/

TimesofCBD is the most active daily CBD news publication featuring the latest cannabis industry stories and marijuana market trends. As the leader in CBD-centric content curation, we invite all readers to come for the headlines and stay for the insights. Quality is the top priority when presenting user guides, analyzing product reviews and reporting fact-checked news announcements. All information is for educational and informational purposes only. Disclaimer.
Got news? Email contact@timesofcbd.com