CBD Drip: CBD Company News and Product Review Updates
CBD Drip: Cannabidiol Oil EcoDrops, EcoGels, EcoShots, EcoPets and EcoCaps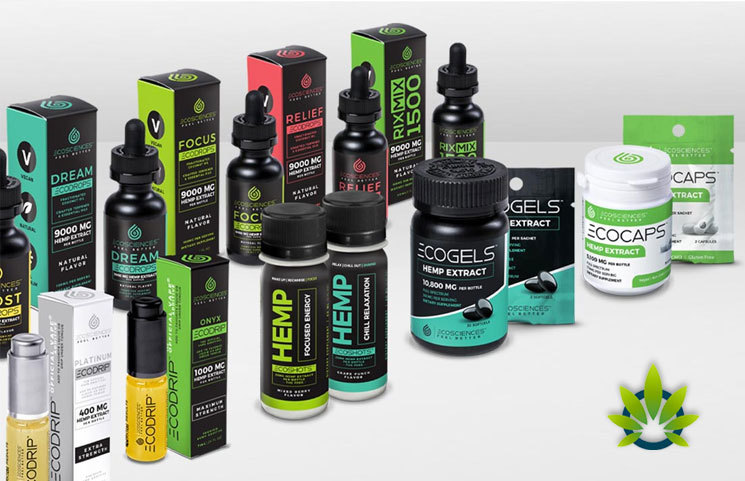 CBD Drip is a California-based company that manufactures CBD products with European Grown (Netherlands, Northern Europe) hemp plants dully inspected by US Customs and Homeland security. They use a clean, non-solvent based CO2 extraction process to extract full-spectrum hemp oil.
The company uses this oil to make a variety of products ranging from capsules, drinks, and pet supplements. All their products are lab tested for quality and safety. They all have no pesticides and herbicides and are non-GMO. Read on to know whether this company's products are worth purchasing.
CBD Drip Products
To buy CBD Drip products, you need neither a prescription nor a medical card. In all the 50 states, it is legal to purchase and use CBD made from imported industrial hemp without prescription.
CBD Drip Capsules
ECOCAPS Bottle Single
The strength is approximated to be 30+ mg per capsule, and 900 mg per bottle. This strength is reasonably high, and enough for fast results upon use. Currently Selling at $72.88,
ECOCAPS: Bottle Single is a full-spectrum CBD-rich whole plant extract. With this, it retains all cannabinoids, terpenes, lipids, vitamins, compounds, and nutrients. This product is free of harsh chemical solvents, pesticides, and is non-GMO. The suggested use is 1 to 2 pills a day, and each bottle comes with 30 capsules.
ECOCAPS Travel Single
This product sells at $7.24, and the user is advised to take one to two pills in a day. It is a good addition to your purse or carry-on and has all cannabidiols, nutrients, and crucial lipids.
ECOCAPS: Travel Single comes as package containing 2 capsules. The approximate strength of each capsule is 30+mg of active CBD and 60+ mg per pack.
ECOGELS Bottle Single
Currently selling at $69.99, this bottle comes with 30 capsules. Each capsule has approximately 25+ mg of active CBD, and the entire bottle 750+mg. it can be taken on an empty or full stomach, and one capsule can be taken to kick-start the day and the other in the evening. It is made of full-spectrum hemp oil and fractionated coconut oil.
ECOGELS Travel Single
This travel pack is a convenient way of taking ECOGELS on the go. With each pack having two capsules, this product costs $6.99 and is made of full-spectrum CBD. Each capsule has about 25+ mg of active CBD, while the entire pack contains 50mg+.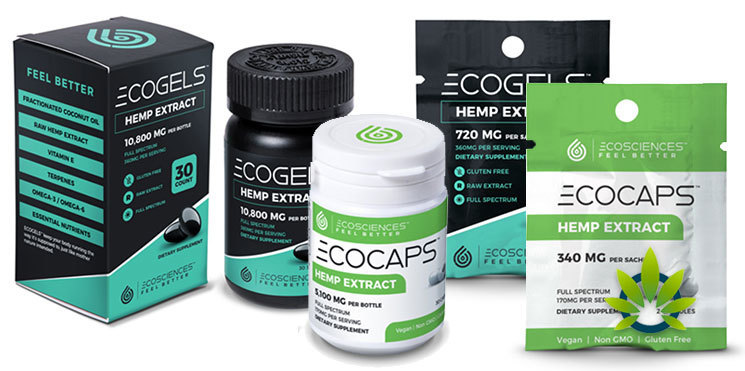 CBD Drip Drinks
EcoSHot Energy + Hemp
EcoSHot Energy is sold at $4.99 and is made of CBD isolate. It gives the user energy to start the day without a jittery feeling. Having CBD isolate, this product is not meant to substitute full-grown spectrum CBD-rich whole plant products. This one 2 ounce bottle's active CBD is around 25+mg and comes with five calories. This product should be taken in the morning or midday as taking it in the evening might keep the user up.
ECOSHOT Relax + Hemp
This grape-flavored drink goes at $4.99. It is made using CBD isolate and thus has no THC. As the name suggests, the product is meant to help the user wind down and relax. With less-effective CBD isolate, this product is just a compliment but is not meant to substitute products with full-spectrum CBD. It is a one 2 ounce bottle with CBD around 25+mg, and each bottle comes with 5 calories. The ECOSHOT relax drink is meat for the night, evening, or any other lazy day in the house.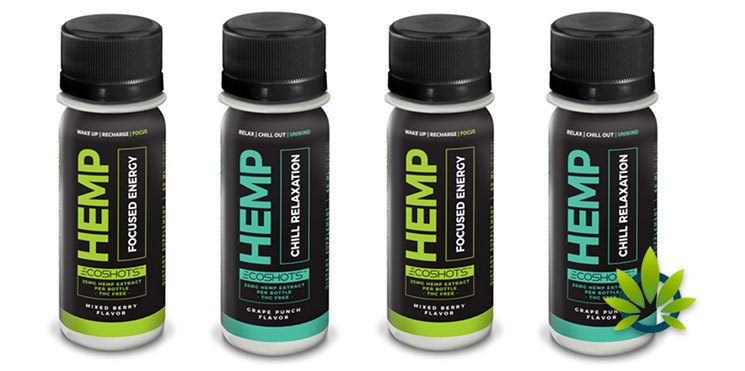 Pet Products – ECOPETS – Calm and Comfort
Made of full-spectrum CBD, this product costs $29.99, and has a Natural Bacon flavor. It is specially formulated with natural ingredients and is a nutritional supplement for the health of dogs. Every bottle is packaged with fractionated Coconut oil (MCT), pure hemp, and tasty natural flavorings.
The bottle is 30 ml and has around 1000+mg of hemp oil. Other ingredients are Vitamin E, Plant Sterols, Omega-3, and Omega-6 among other essential natural nutrients. This product is vegan free and gluten-free. It is directly mixed with dry or wet food and can be applied directly to the pet's mouth.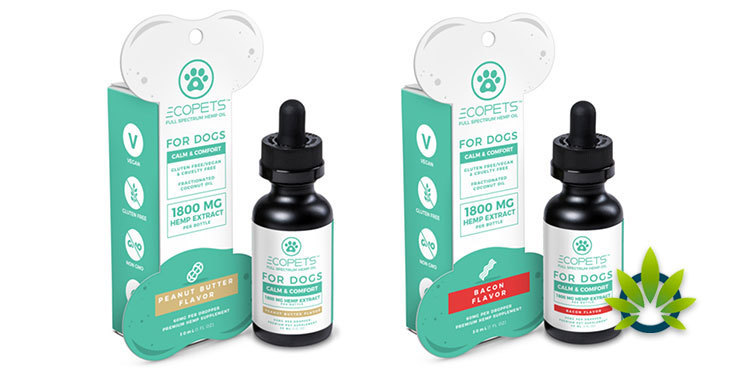 Does CBD Drip Offer Value For Money?
If you are looking forward to starting using CBD for the first time, CBD Drip offers excellent prices and convenient packages. With the company's small packages costing as little as $7.24 and containing 30 mg of CBD, you can easily try out CBD products to see if they work for you.
Larger options are fairly priced, and most of them are relatively cheaper than other brands. With the high quality these products come with, it is safe to say that CBD Drip products are worth purchasing.
CBD Drip Review Summary
Having been in the industry since 2008, CBD Drip has managed to stay in business due to their high-quality CBD made from chemical-free organic hemp. A number of companies use low-quality CBD from Vietnam or China where factory regulations are not high, and the extract produced ends up being less beneficial and potentially harmful. This is the reason why customers are advised to buy products from lab tested and verified sourced. CBD Drip is one of those.
CBD Drip has an excellent customer experience in all aspects from the online ordering process, all the way to the quality packaging bottles. We rank this company amongst the most professional brands we have reviewed. They have an informative website that is easy to navigate and find any information you want about the company. With the flexibility in product sizes, competitive product costs, high-quality third-party lab tested products, and many positive customer testimonials, we confidently recommend CBD drip for anyone in need of CBD products.

TimesofCBD is the most active daily CBD news publication featuring the latest cannabis industry stories and marijuana market trends. As the leader in CBD-centric content curation, we invite all readers to come for the headlines and stay for the insights. Quality is the top priority when presenting user guides, analyzing product reviews and reporting fact-checked news announcements. All information is for educational and informational purposes only. Disclaimer.
Got news? Email contact@timesofcbd.com