CannazALL: CBD Company News and Product Review Updates

- Ad -
CannazALL: Full-Spectrum Hemp Oil CBD Tinctures, Skin Salves, Vape Juices And Gelcaps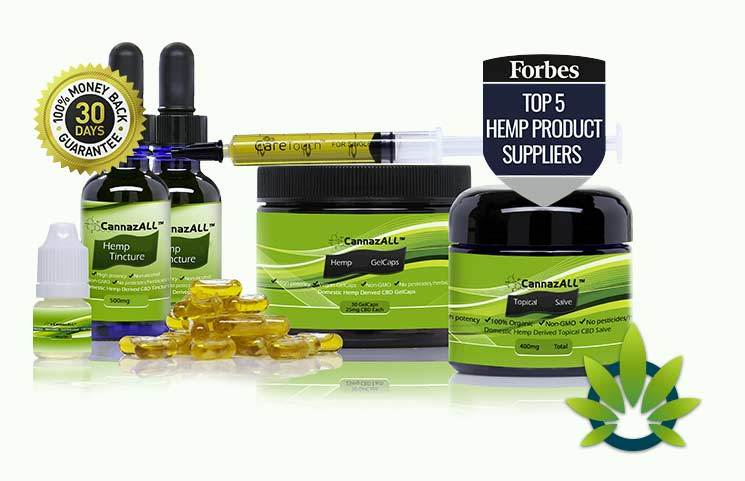 The Hemp plant is turning out to an absolute wonder. The plant has been regarded as safe, legal and even beneficial in varying medical conditions according to research. Already there is a lot of buzz in the health and supplement community on the rising number of hemp oil products and extracts. The market is abuzz with many brands infusing the compound in different items.
Since you are reading this, there is a pretty good chance that you are still fuzzy on the details regarding the best hemp oil brand to choose. Fortunately, you should consider this article as a foothold that gives the foundation to understanding the CannazALL CBD brand.
What Is CannazALL
The CannazAll line of products is a CBD/hemp oil brand sold by the HempLife Today, a company looking to increase the health, vitality and wellbeing of individuals. Under their company motto 'hemp is health', CannazAll hopes to support the hemp culture through their comprehensive quality products plus educational content.
As of now all of the CannazAll products are legal in all 50 states with approval achieved through the Colorado Department of Agriculture program. The brand's standard is perhaps their lead selling point with the CO2 process, batch testing and advanced production making the products not only quality but also efficient.
CannazALL Hemp Oil Products
Tinctures
For $29, CannazALL offers this 250mg CBD bottle blend bearing its full-spectrum CBD dosage. With each full dropper, you can expect 10mg of the CBD, on top of the 250mg total. Less than 0.03% of THC is present in the SM. Pack CBD Oil tincture to leave you with little worry on a positive drug test.
Concentrates
CannazALL also leads the CBD marketplace with their potent 300mg CBD oil blend. Available in one oral syringe, this CannazALL concentrate product packs CBD, coconut oil and organic hemp. A price of $36 would guarantee you get you this concentrate worth of 20mg of CBD for a 4-drop dosage.
Infused Gelcaps
A much convenient CBD intake option comes in the form of CannazALL CBD oil gelcaps available for a single dose each day. One GelCap dose packs 25mg of the full-spectrum CBD which in total gives 750mg worth of the component for the whole package. The 30 Gelcaps bear a full-spectrum and are available $79.
Skin Salve
Similar to a wax-based lip balm, CannazAll produces the 2oz. Jar of Topical CBD Salve with 400mg of CBD available. Consistency also remains critical with this product since it also contains a blend of the full-spectrum CBD to relieve pain on the topical area. The small pack CBD salve is available for $48 for a one jar package.
Vape Oil
The CannazALL CBD Vape oil packs a fruity punch flavor alongside the 240mg CBD composition also present. The package comes in four vials each offering approximately 2-4 puffs with 1mg of CBD. In total, the four bottles will each delivering 60mg of the full spectrum CBD concentration. The CannazALL Vape oil vials are put to use for electronic vaporizers and e-cigarettes for $52.00.
Aspects That Make CannazALL Stand Out
For any new or regular user of CBD, the decision to pick a hemp brand is quite overwhelming. Indeed, that's the case with CannazALL especially since the brand gets recommendable reviews on particular aspects. Here's what we listed as possible features
Comprehensive Product Variety
In line with other brands, CannaALL takes pride in their extensive yet straightforward product line that comprises tinctures, oils, salves and capsules. In our opinion, the range of products indicates a focus of quality rather than quantity.
Educative
The HempLife Today brand also makes it a task to provide useful information for the CBD customers new to the hemp culture. Comprehensible info graphics and detailed composition on the CBD are just some of the general educational tasks that CannazAll undertake to school the consumer on CBD.
Informative
A good number of CBD or hemp oil products do fail to unravel the contents or even mode of intake with their items. This is not the case with CannazALL products since their ingredients' list, and dosage is available with the package. The manner of use is also provided alongside the content information of the products' ingredients.
Special Deals
CannazALL provides additional purchase options that bear special offers for hemp enthusiasts looking for a CBD product. In their suggestions, first-time CannazALL customers are bound to get their dose order under special prices.
Mildly Priced
We also took note that despite the CannazALL blend of products not being on the cheap end, they are still averagely priced compared to other less-quality CBD products. This is plus the guarantee for a refund in case of any inconvenience during shipping.
The Downside Of CannazALL
Unfortunately, despite the claim of carrying out a quality product and batch testing during manufacturing, CannazALL does not provide substantial evidence on the testing results. The lack of such information is a big letdown for a company touting itself as the next quality CBD brand.
CannazALL Conclusion
In our conclusion, CannazALL gets a top ranking for their line of products that offer quality and efficiency. The pricing is also not that bad since there are more expensive products providing low quality out there in the same price range. Most of the items on sale only fall in the range of $30-$80 for the different categories, making them particularly affordable to most individuals.
However, we have to consider that to an extent CannazALL is dishonest. The lack of lab testing results is a point of concern for us since it certainly does raise questions on the quality or quantity of their products. Still, any customer is free to request for the testing results about the particular product. We also consider that most customers report of failed delivery or not receiving their products despite efforts to contact the parent company. Such situations seem to parallel any upcoming CBD brand especially in the case of CannazALL.
Overall, we can conclude that the CannazALL line of CBD products can deliver but the inconvenience associated can bring a particularly frustrating experience.
CannazALL: CBD Product Updates
REFRESHING TINCTURES
POTENT CONCENTRATES
INFUSED GELCAPS
FLAVORFUL VAPE OIL
SKIN SALVE
CannazALL Pets CBD Tincture
CannazALL: CBD Company News Updates
Location: 3570 E. 12th Avenue Denver, Co. 80206
Money Back Guarantee: Yes
Phone: 1-800-655-9547
Online Web Support: Yes
Official Website: hemplifetoday.com/

TimesofCBD is the most active daily CBD news publication featuring the latest cannabis industry stories and marijuana market trends. As the leader in CBD-centric content curation, we invite all readers to come for the headlines and stay for the insights. Quality is the top priority when presenting user guides, analyzing product reviews and reporting fact-checked news announcements. All information is for educational and informational purposes only. Disclaimer.
Got news? Email contact@timesofcbd.com