CBD Living Suppositories: Full-Spectrum Nano Hemp Extract for Vaginal Use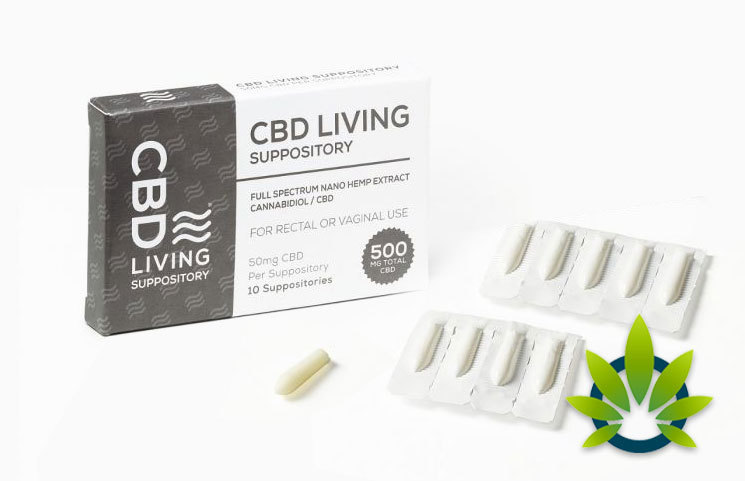 With the increased demand of CBD-based products, it's easy to find CBD products in different forms like edibles, tinctures, gummies, and tablets. CBD Living is one of the industry leaders with a line of CBD products, one being CBD Living Suppositories. While this product has earned industry recognition and recorded massive sales, is it worth the cost?
We have compiled a detailed review of CBD Living Suppositories listing features like CBD concentration and potency, hemp source, industry tests, price, and value for money. Read on to discover if CBD Living Suppositories will give you value for money.
CBD Living Suppositories Features
CBD Living Suppositories contain 50mg of full spectrum CBD extract. Being full spectrum, this product has many phytocannabinoids and terpenes that work synergistically to create an entourage effect, hence offering a better relief and more therapeutic benefits. CBD Living Suppositories are infused into a base of PCCA MBK to enable easy insertion and provide maximum therapeutic benefits.
Nano-Technology
CBD Living Suppositories have been produced with Nano-technology. This makes infused CBD easily absorbable and highly bioactive.
Composition
The two key ingredients of CBD Living Suppositories are proprietary full spectrum Nano-CBD and PCCA MBK fatty acid base. This allows easy insertion in the vagina or rectum. Each CBD Living Suppositories' pack contains 10 suppositories, each with 50mg CBD, making 500mg of CBD extract per pack. All ingredients are 100% plant-based, gluten-free, cruelty-free, non-GMO, and have no animal gelatin, thus vegan-friendly.
Quality
CBD Living Suppositories are convenient for dosing since each suppository passes through a rigorous quality assurance process. This ensures that the user absorbs the product in the most healthy way.
Psychoactivity
CBD Living Suppositories contain less than 0.03% of THC. THC is the psychoactive compound in cannabis responsible for making people high. With its trace amounts in CBD Living Suppositories, you'll not feel "high" or intoxicated after use. In addition, taking CBD Living Suppositories will not make you fail a drug test.
Price and Offers
CBD Living Suppositories currently retail at $50 at the company's website. There are no discounts, coupons, or offers ate the moment. However, you can keep on checking the company's website for special deals.
Dosage
This convenient suppository creates room for error-free dosing as it is sold in tablet form. Better, you can cut it into half for a lower dose if desired. CBD Living Suppositories are, like other suppositories, taken through insertion in the vagina or rectum. Due to the rectum membrane's high viscosity, CBD is easily and quickly absorbed. Results are experienced almost immediately.
To use CBD Living Suppositories, start by vigorously washing your hands with water and soap and place the suppository in a refrigerator or cold water if it is soft. From this, remove the wrapper, lubricate the tip of the suppository using a water-soluble non-petroleum lubricant, and insert the suppository in the vagina or rectum, pointed end first, using your finger. Rest for five to twenty minutes so that the suppository does not slip out.
Are CBD Living Suppositories Worth Buying?
While CBD Living Suppositories are relatively costly, high-quality standards have been met. The Nano-CBD formulation technology is a big selling point, and you'll most likely love the full benefits of full spectrum CBD possessed by this product. All factors considered, we find CBD Living Suppositories worth recommending to people who cannot take oral CBD medication.